The plans for 134 GW offshore wind in the North Sea will require a very significant expansion in installations over the next few years. All parts of the wind industry need to expand. Port Esbjerg is ramping up for the boom – and so are the companies based at the port. "It's a pleasure to see the way the companies at the port are taking the initiative and being proactive, because we're all going to be extremely busy," says Port Esbjerg CEO Dennis Jul Pedersen.
Last autumn, Port Esbjerg started the construction of a 6,200 m2 building with a ceiling height of 25 metres. The facility will be needed to accommodate the demand for space to speed up the growth in offshore-related activities, including for components of ever greater dimensions.
The wind industry is booming and will be growing at a dramatic pace in the coming years. At the North Sea Summit held in Ostend, Belgium in April, Denmark, Germany, the Netherlands, Belgium, France, the UK, Norway, Ireland and Luxembourg signed a declaration to build 134 GW of offshore wind by 2030 and over 300 GW by 2050. That is double the target of the Esbjerg Declaration from 2022, which in itself implied an ambitious scale-up.
In other words, growth is an omnipresent theme, and not least at Europe's largest originating port for wind power. This applies not only to Port Esbjerg as a business, but also to the companies based at the port.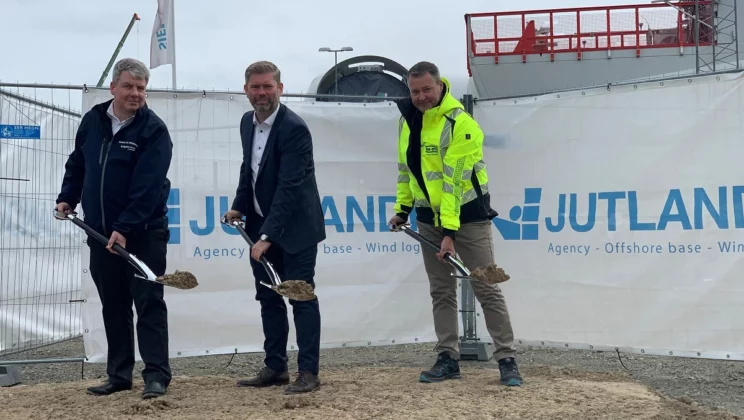 "We dare to be more proactive"
"We're very confident about the upcoming developments, both at Port Esbjerg and in terms of the wind industry based at the port. A boom bigger than anything ever seen before is blowing our way, so it's all about being ready and making sure we have sufficient capacity in terms of warehouse space and materials," says Kristian Svarrer.
He is the CEO of onshore and offshore service provider Jutlandia Terminal, which is one of the forward-looking companies investing for the future.
That's why the excavation machines are busy. Over the next couple of years, a 12,000 m2 warehouse will take shape at the site, ready to accommodate wind turbine cargo – everything from spare parts to nacelles and generators, which must always be stored in a dry environment.
"We're taking a few chances now that, being a small company, we didn't dare take earlier. But now we're seeing opportunities that weren't available before, so we dare to be more proactive," explains Svarrer.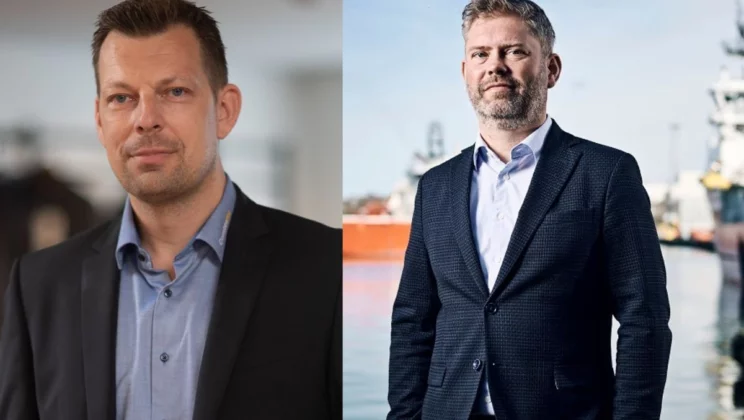 Important to keep up with the times
Comtec, a supplier of personal safety equipment and workwear, also needs to keep up with the times, so it is building a new 4,600 m2 head office at Port Esbjerg, which will include both office and warehouse facilities.
"Our company is expanding and we've grown out of our current premises," says Comtec's CEO and partner, Morten Espersen. The company serves customers within offshore wind and oil/gas, among other sectors.
In addition to getting more room, the company will also have a new high-tech autostore warehouse providing fully automated operations, thus securing speedier and more reliable deliveries.
"Esbjerg is Europe's largest originating port for offshore wind turbines, so upgrading our operations next to where our major customers are based is a no-brainer. We're also very pleased with Port Esbjerg's proactive approach to developing customer relations and attracting new customers," says Espersen.
At Port Esbjerg, they are also excited to see that the companies at the port are forward-looking and keeping up with the times.
"At Port Esbjerg, we're doing everything in our power to provide the best possible framework for the companies based at the port. It's really great to see that the companies are seizing the opportunities available at the moment and that they're expanding and keeping at the forefront of developments," says Port Esbjerg CEO Dennis Jul Pedersen.
He continues:
"We're in for a big boom, and those investments are necessary in order for the port as a whole to keep up."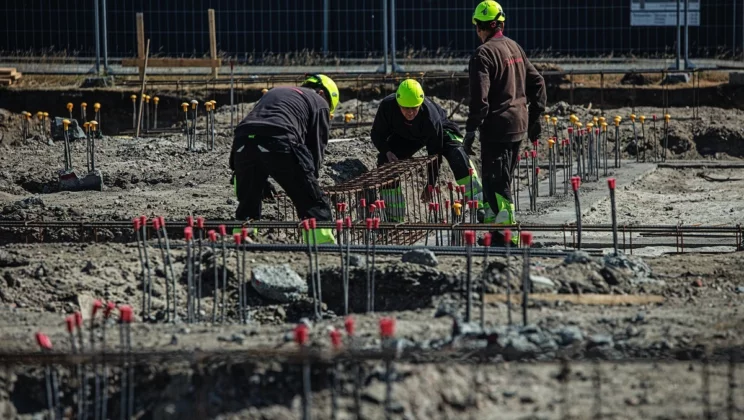 Go to overview